Hello eveyone!
I am using Polylang (along with Loco Translate for some individual strings) to translate my ecommerce website in Greek.
Everything seems to work fine, except in the Checkout page, the Privacy Policy and
Terms&Conditions links, and also the Place Order button cannot be translated.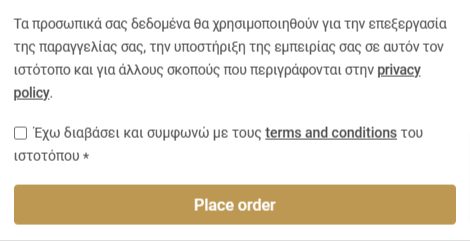 I have gone through Loco Translate, synced the Woocommeerce origin file, searched for the strings in the greek translation so that I can translate them manually, but with no success. These strings either cannot be found, or are already translated but now shown as so in the frontend.
Also in the Bricks Theme these strings are not found. They seem to be only part of Woocommerce.
Any idea of how to achieve that?
P.S. I had a similar issue with "Addresses" menu in the 'My Account" page, but the trick I mentioned above did the trick. Unlike this time.