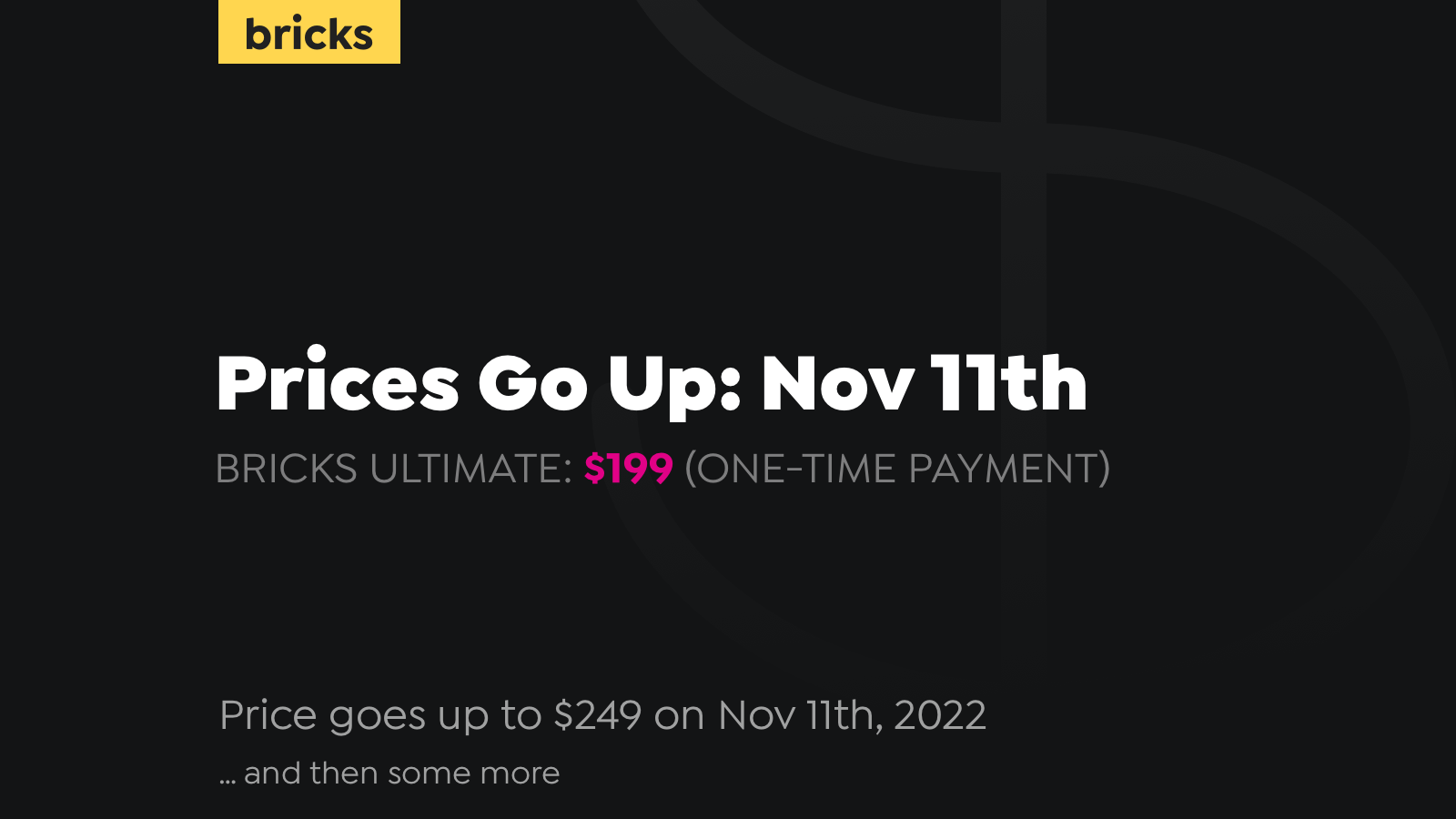 Hey everyone

I hope you are doing well. It's been a while since our last announcement.
While our previous posts were mostly about a specific update, we'll probably publish more "recap" kind of posts every few weeks from now on. As not every update will require its own post anymore. Speaking of …
SMALLER, MORE FREQUENT UPDATES
We hope you enjoy the smaller, more frequent updates (every week or two) that we switched to last month.
In case you've missed the news, here is the official, more in-depth announcement:
forum.bricksbuilder.io/t/introducing-a-smaller-more-frequent-update-cycle/5995/
Long story short: Many of our past releases were simply too big. Even delayed getting hotfixes out there fast enough. Which has also been noted by the community.
Hence the switch to much smaller, more frequent updates (every week or two).
This should make updating to the latest version of Bricks even more enjoyable

SEPTEMBER HIGHLIGHTS
Thanks to the new update cycle we released four updates in September that included some of our most requested features:
Element Conditions / Conditional Display Logic (more information)
Custom Breakpoints (more information)
Cross-Domain Copy & Paste
Dynamic Data: Toggle Between Tags & Actual Data
New Bricks template directories & integrations emerged as well, further empowering everyone building with Bricks

WHAT'S NEXT?
We are currently working on CSS grid, the mega menu builder, the mobile menu builder, and the popup builder (Roadmap – Bricks). All of these features are scheduled for release this year
CSS grid (like the new element conditions) will probably be an "in-stages" feature. Meaning we'll roll out an initial solution, collect user feedback, and make adjustments as needed to properly build out this feature.
PRICES GO UP: NOVEMBER 11TH
This one shouldn't be a surprise as we always communicated that prices will increase as the builder advances.
The last increase was back in January. Since then we've released hundreds of changes (Changelog – Bricks)
So on November 11th Bricks prices will change as follows:
Bricks STARTER (1 site): From USD 79 to USD 99
Bricks ULTIMATE (unlimited sites): From USD 199 to USD 249
We never have & never will offer any discounts or sales on the Bricks lifetime deal!
Meaning the earlier you join Bricks, the lower the price. It's that simple.
If you do consider getting your own Bricks license or upgrading from Starter to Ultimate (simply email us as you'll only have to pay the difference), doing so before Nov 11th would be a good move: https://bricksbuilder.io
We'll continue to adjust our prices, and start introducing yearly subscriptions as we approach Bricks 2.0 next year.
THANK YOU!
To everyone who has already joined the Bricks family THANK YOU ONCE AGAIN for your continued support, and for helping us spread the word about Bricks

Another massive THANK YOU to everyone who has helped fellow members here in the group & the forum, to all the template designers, extension developers, and reviewers. You rock

Until next time,
Thomas & team