Bricks Version: 1.3.2
Browser: Chrome 90
OS: macOS / Windows / Linux / etc.
URL: https://casadatelhafb.com.br/
In the published page I don't see the "meta" tag with name "description" and "keyword" added in a template (single) page.
Steps to reproduce:
1- Create a new template of type Single
2- Add text in meta description and keyword
3- Set the template condition to "First page".
4- Go to the page with the browser and inspect the code.
Case 1:
https://casadatelhafb.com.br/ - This is the front page created from a template with the condition below. Please, inspect it, meta tags description and keywords are absent.
Case 2
Meta title foo test – Casa da Telha - This is a page edited directly with Bricks. Please, inspect it: meta tags description and keywords are available
Here the text added to the template: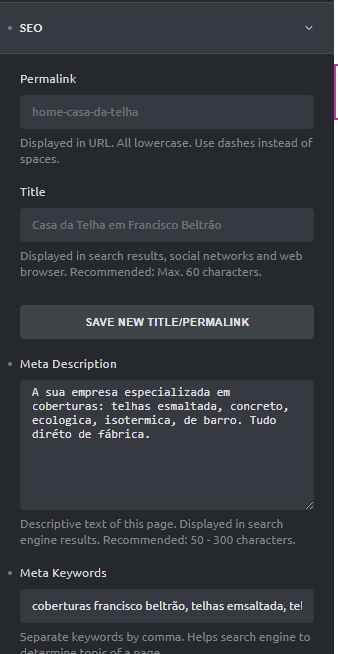 Here the condition applied to the template: