Bricks Version: 1.4
Hi,
When setting a gradient with a color from the palette with no further edit, editing later the palette color doesn't reflect changes in gradient.
It seems gradient CSS is generated with the color hex value instead of the corresponding CSS variable, unlike simple background property, for instance.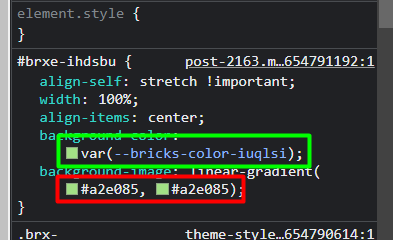 When a color is selected from palette and not edited, it should definitely use the CSS variable.
Quick fix:
Go to gradient settings and click on corresponding color tab to refresh gradient.