Bricks Version: 1.6.2
I think there is an issue with the query loop's tax_query:
By default the "Include children" option in the Query Loop settings is disabled.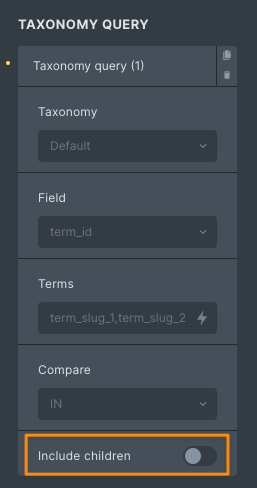 With the option being disabled the include_children parameter is not included in the generated tax_query at all.
The problem is that the default value for the include_children parameter (if not explicitly set) is true (see WP_Query | Class | WordPress Developer Resources).
Because of this there is currently no possibility to exclude the children using the Query Loop (without using the query_vars hook to fix the tax_query) – the children are always included.
If you leave the option disabled in Bricks the query parameter is omitted which results in WP's default value being used. Which is true.
If you enable the option in Bricks the query parameter is explicitly added with a value of true.
Hope my explanation was understandable.